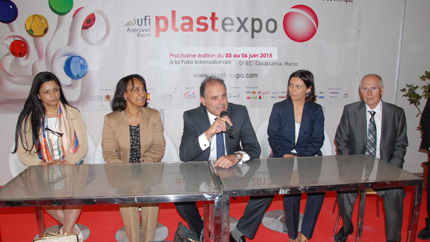 Headed by the Moroccan Plastics Federation (FMP), the 6th Plast Expo International Plastics Exhibition will be held from 3rd to 6th June 2015 in Casablanca. The event, which coincides this year with the 1st edition of "Plast Pack", reflects the enthusiasm manifested by the national and international operators of the plastics business.
The second largest sector of the chemical processing industry in Morocco, the plastics industry represents, according to a study by Maroc Export published at the end of 2014, nearly 650 companies with 45,000 direct jobs and 300,000 indirect jobs.
Production, on the other hand, amounts to 550 kilotonnes, valued at 12.4 billion dirhams.
In addition, the packaging sector plays a key role in this developing industrial sector, with 38% of the turnover generated by packaging materials.
This year, nearly 180 exhibitors and more than 3,000 visitors are expected to attend this biennial B toB event, which offers export-oriented companies a fruitful opportunity to penetrate into this growing market.
Recall that the 2013 edition of Plast Expo welcomed 150 exhibitors from 19 countries and 2,855 trade visitors from 31 countries.