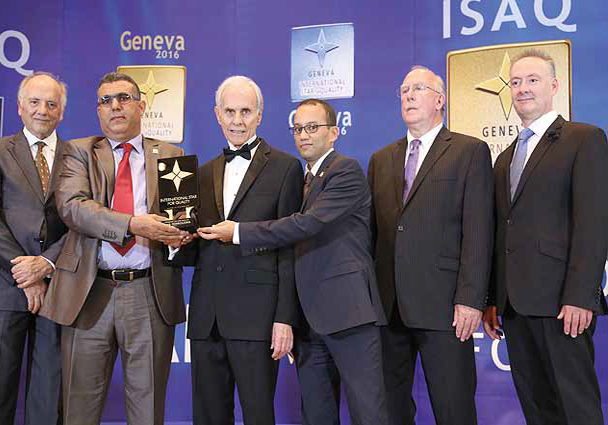 M2B Council, a Moroccan firm, won the International Star award of Quality Award in Geneva 2016. The BID International Star of this year for the quality Convention, where professionals and business leaders from around the world were gathered to recognize excellence and success. In particular, the convention celebrated the quality in business and operations. The winners have demonstrated commitment to the criteria of the QC100 TQM Model, which helps build customer satisfaction and cost efficiency in all areas of operation. Among the winners of this year,is M2B CONSULTING, a national consulting firm that was awarded the International Star for Quality Award in the Gold category. According to the International Star for Quality Award organizers "M2B CONSULTING won the International Star for Quality Award in the Gold category in Geneva attended by leaders and representatives from 43 countries at the International Star for Quality Convention. This prestigious award was granted in recognition of business excellence and innovation. " This year's winning organizations include: Creative City – Furaijah- UAE; Saveco, Kuwait, subsidiary of Al-Qatami Group; AGF Consulting Group – Philippines; Mirage Haute Couture of Algeria; Chevron Clinical Laboratory Private Limited, Bangladesh; etc. Note that all winning companies in Geneva have expressed their commitment to TQM QC100 model, which is an excellent example for other organizations in the rapidly changing environment of business today.
Remember, M2B Consulting proposes to implement solutions with different systems: the management system (QHSE) Operational Excellence (OPEX); Human Capital Development (HCD); development strategies (STRT); innovation and entrepreneurship (INOV) and for very small enterprises (S-TPE).
Its wide range of solutions seek to meet the needs of any business that include offering training and optimizing human resources, which are essential to the functioning of any organization operating in the global market .
In the same sens, M2B Consulting also specializes in services of the food industry, catering and sectors related to the supply and transport of food. These are complex areas that require a great knowledge of the legal and health issues.